Global Technical Alliance & Project Design
We have been providing technical support with development, manufacturing and sales of a wide range of electric devices production equipment for customers around the world over 35 years. We proudly maintain the pledge to all our customers our extensive technical support and project design assistance. Developing the equipment with technical alliance would ensure the customers to meet their needs and would save each customer considerable time and money.
What's New
Core Technology
* movie available
Press Forming

Press forming metal powder to make variety of pellets for production of Tantalum or Niobium capacitors and inductors.

Press Forming Machine Lineup

Powder Coating

Coating radial leaded electric components with insulating Epoxy resin by Fluidized Bed coating.

Powder Coating Machine Lineup

【SEIKEN】

Lead Welding

Welding electrode wire leads to both sides of wound or stacked electric elements in a radial direction and taping the welded leads onto the jig bar for Film capacitor production.

Capacitor Lead Welding Machine

Winding

Making wound typed elements by winding film or foil with separators for production of film capacitors and batteries.

Firing

Firing electric components in a highly uniformed temperature / atmosphere for production of ceramic capacitors, etc. Rapid heating is also possible.

Planetary Batch Kiln

Stacking

Stacking ceramic green sheets (printed and non-printed) alternately and accurately for production of MLCC, Piezoelectric elements, LTCC, etc.
Please contact us for further information, question or suggestion using our online form. We will return to you promptly.
TEL: +81-45-545-0306
FAX: +81-45-545-0414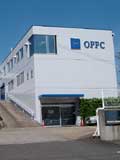 OPPC Co., Ltd.

2050 Nippa-Cho, Kohoku-Ku,
Yokohama,Kanagawa,
223-0057 Japan

TEL: +81-45-545-0306
FAX: +81-45-545-0414
Email:postmaster@oppc.co.jp